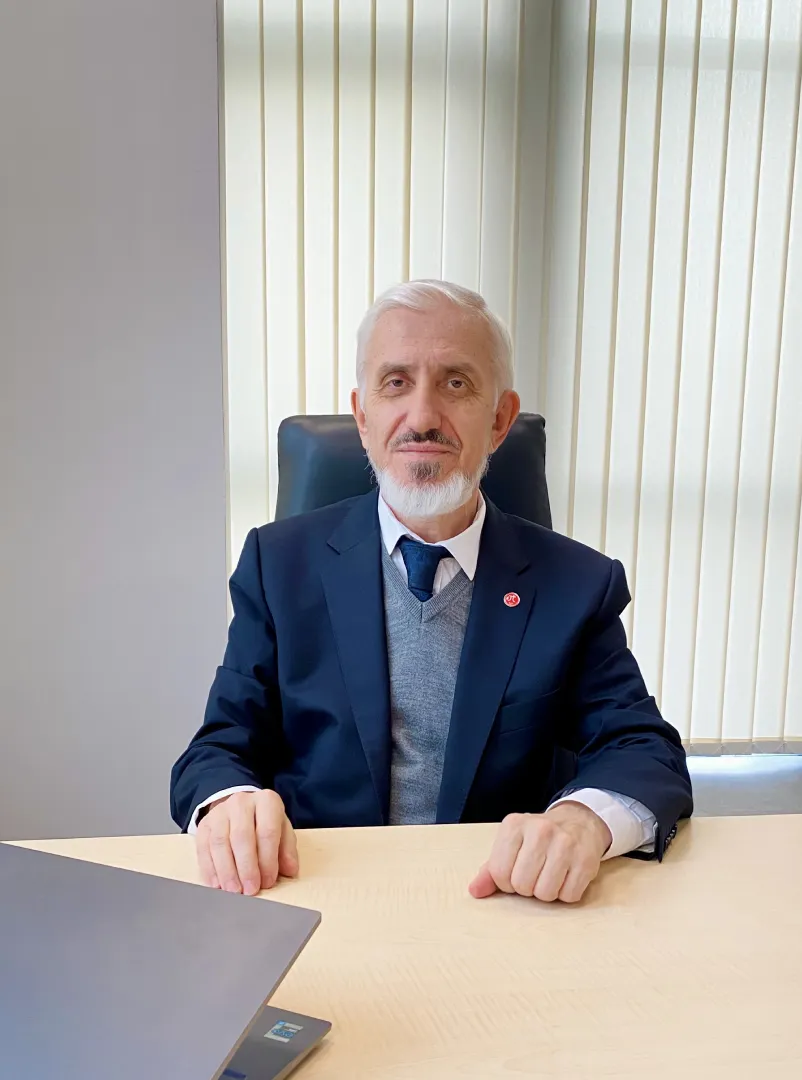 VICE-RECTOR
Professor Şahin graduated and obtained his BSc degree from the Aeronautical Engineering Department at Istanbul Technical University, Istanbul, Turkey in 1982. He received his MS and Ph.D. degrees in Mechanical Engineering from the University of Michigan, Ann Arbor, MI, USA in 1984 and 1988, respectively. Subsequently, he worked as a Post-Doctoral Researcher at the University of Michigan during 1988-1989 and worked as Project Engineer at TESTEK Inc. Livonia, MI, USA during the same period. He joined King Fahd University of Petroleum and Minerals (KFUPM), Dhahran, Saudi Arabia in 1989 as Assistant Professor. He was promoted to Associate Professor and Full Professor, in 1995 and 2001, respectively. During his stay at KFUPM, he was the Summer Training Coordinator (1993-1998), the Thermo-Fluid Group Coordinator (1995-1998), and the Aeronautical Group Coordinator (1998-2002). He worked as a Visiting Professor at American University of Sharjah, Sharjah, United Arab Emirates during 2007-2008 academic year. He became Distinguished University Professor at KFUPM in 2017. He was the Founding Director of the Renewable Energy Laboratory at KFUPM. Later, he worked in the Aeronautical Engineering Department at Istanbul Technical University, Istanbul, Turkey from 2021 - 2023 as a Professor. He acted as the Advisor to Dean, a Member of the Faculty Board and the Director of Heat and Mass Transfer Lab in the Deanship of Aeronautics and Astronautics at Istanbul Technical University.
His main research interests include Thermodynamic design optimization, Entropy generation minimization, Heat conduction in composite materials, Energy and exergy analysis of thermal systems, Solar energy, Wind energy, and Nanofluid applications in thermal systems.
He has published over 300 technical Journal/Conference papers, 14 books/book chapters, and 17 US Patents. He has completed 34 Funded Research Projects, Supervised 18 Ph.D Dissertations, and 60 M.S. Thesis. His scientific publications received more than 6000 citations in SCOPUS with the H-index of 42.
He received many awards including the Fellowship from the Technical and Scientific Research Council (TÜBITAK) of Turkey during undergraduate study (1977-1982), Scholarship from the Ministry of National Education of Turkey for M.Sc. and Ph.D. study in the USA (1983-1988), Honor certificates from the Senate of State of New York, and from the U.S. Embassy of Turkey, New York, USA, in 1985, Distinguished Researcher Award at KFUPM in 2000, 2005, and 2010, respectively, and Distinguished University Professorship Award at KFUPM in 2017. He was listed in Productive Scientists of OIC Countries by COMSTECH in 2006